Welcome to our Parish website
Thank you for visiting Kingscourtparish.ie Our website has been designed by our Parish Pastoral Council to help us in our mission to promote Parish pastoral activities.
We hope you enjoy your visit and find it both interesting and informative.  Please visit us again soon!!
The photographs of the stained glass windows above are windows designed by Evie Hone and are installed behind Our Lady's Altar in the Church of the Immaculate Conception, Kingscourt. Read more about Evie Hone here >>
---
---
Kingscourt Parish Child Safeguarding Representatives:
The Diocese of Meath has a Safeguarding Children Policy which may be viewed at www.meathsafeguarding.ie The parish of Kingscourt has a team of 4 Child Safeguarding Representatives; Catherine Byrne, Barbara Gaynor, Elaine Carolan Fitzsimons and Dara Murtagh. They can be contacted at 042 9667314.
---
Kingscourt Parish Folk Group:
Pictured are Kingscourt Parish Folk Group members who are now fitted out since Christmas Day with their new Choir Uniforms. The choir members are available for weddings and all other liturgical occasions. Please contact Ann at 087 2807982.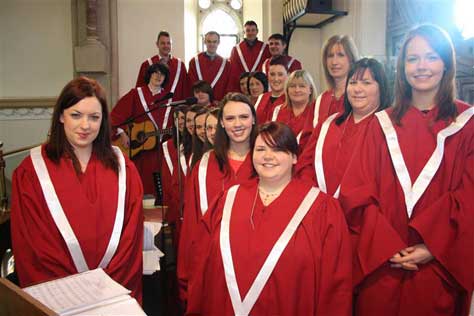 ---
Pilgrimage to Tuscany – 2017:
Sunday 1st October 2017 – Sunday 8th October 2017
Apart from its natural beauty (or maybe because of it) Tuscany has been home to many famous people. Almost every town and village has nurtured its own Saint, Poet or Painter and is still proud to salute his/her memory. Great names such as Fra Angelico, Leonardo da Vinci, Michelangelo and St. Catherine, all were cradled in Tuscany. Viareggio, with its long beach of fine sand is one of the leading resorts on the Tuscan coastline. Although its heyday was at the turn of the century, Viareggio still retains some of the grandeur of the epoch, with its fine Art Nouveau buildings lining the expansive promenade.
---
Easter Pilgrimage to the Holy Land 2017:
Easter Tuesday 18 – Wednesday 26 April 2017
Our 9 day Pilgrimage will begin in Jerusalem where we will spend 5 nights. During that time we will visit all of the main sites including the Via Dolorosa, the Holy Sepulchre, Mount Zion and the Holocaust Museum Yad Vashem. We will visit Bethlehem and will spend a day in the desert visiting Qumran where the Dead Sea Scrolls were found and taking a dip in the Dead Sea. We will visit Emmaus on our way to Tiberias our base for the last 3 nights. From there we will visit Nazareth, Cana, the Mount of Beatitudes, Mount Tabor, Capernaum and enjoy a boat trip on the Sea of Galilee itself.
---
Pre-Marriage Workshops from Accord for 2017:
2017_Accord_Pre-Marriage_Workshops
---
---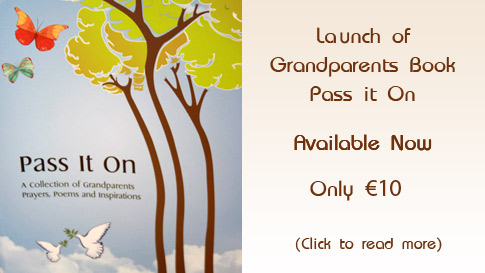 ---
---
CALLING ALL PARISHIONERS ABROAD – Please assist with our fundraising for the works on the Church of the Immaculate Conception, Kingscourt by completing the downloadable STANDING ORDER here or online Paypal Donation here.
---
SPONSOR A SLATE – Would you like to sponsor a slate at €5 each for the roof of our Church? All donations will be recorded in a special book to be kept in the Church for posterity.
---