Welcome to our Parish website
Thank you for visiting Kingscourtparish.ie Our website has been designed by our Parish Pastoral Council to help us in our mission to promote Parish pastoral activities.
We hope you enjoy your visit and find it both interesting and informative.  Please visit us again soon!!
The photographs of the stained glass windows above are windows designed by Evie Hone and are installed behind Our Lady's Altar in the Church of the Immaculate Conception, Kingscourt. Read more about Evie Hone here >>
---
---
Kingscourt Parish Child Safeguarding Representatives:
The Diocese of Meath has a Safeguarding Children Policy which may be viewed at www.meathsafeguarding.ie. The parish of Kingscourt has a team of 3 Child Safeguarding Representatives; Catherine Byrne, Barbara Gaynor and Dara Murtagh. They can be contacted at 042 9667314.
---
Kingscourt Parish Folk Group:
Pictured are Kingscourt Parish Folk Group members who are now fitted out since Christmas Day with their new Choir Uniforms. The choir members are available for weddings and all other liturgical occasions. Please contact Ann at 087 2807982.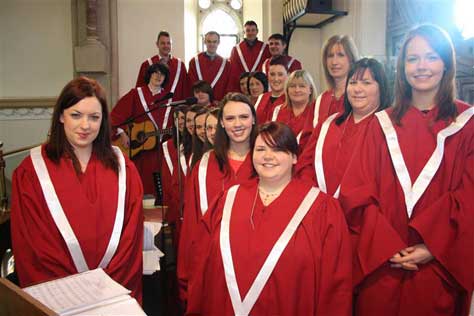 ---
Parish Trip 2016 to Vienna and Salzburg:
Home of magnificent buildings, elegant palaces, fine art, classical music, waltzes, coffee shops and beautiful gardens …… this is Vienna where you will be spending 3 nights before heading to the lovely Baroque romantic city of Salzburg, dominated by its 900 year old castle, for the remainder of your holiday. Whilst in Vienna stroll through the narrow lanes in the old town, visit and celebrate Mass in the splendid St. Stephen's Cathedral and afterwards sample the famous Sachertorte or delicious strudel. Then on to Salzburg visiting en route the famous Melk Abbey overlooking the Danube and run by the Benedictines. Salzburg has strong Irish links.
Read more details for this forthcoming trip here..
---
Pre-Marriage Workshops from Accord for 2016:
2016_Accord_Pre-Marriage-Workshops
---
---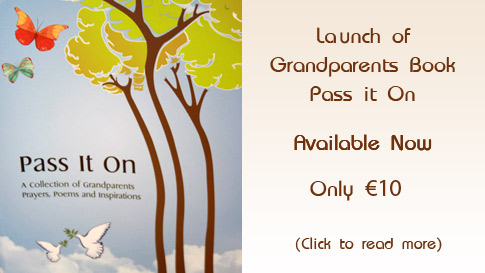 ---
---
CALLING ALL PARISHIONERS ABROAD – Please assist with our fundraising for the works on the Church of the Immaculate Conception, Kingscourt by completing the downloadable STANDING ORDER here or online Paypal Donation here.
---
SPONSOR A SLATE – Would you like to sponsor a slate at €5 each for the roof of our Church? All donations will be recorded in a special book to be kept in the Church for posterity.
---